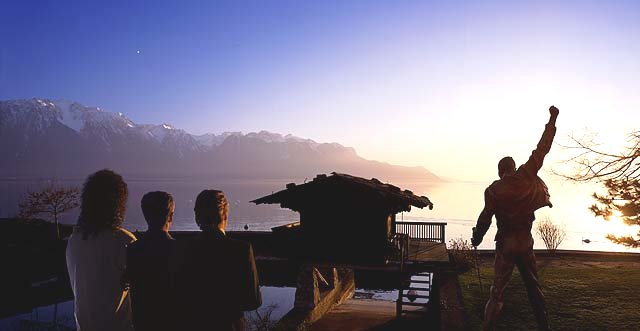 In 1968 Brian May and Tim Staffell, both students at London's Imperial College, decided they wanted to form a group. Brian placed an advertisement on the college notice board for a "Ginger Baker Type" drummer and a young medical student called Roger Meddows Taylor auditioned, and got the job. They called the group SMILE. Smile were signed to Mercury Records in 1969 and had their first experience of a recording studio - Trident Studios - that year. Tim Staffell was at Ealing College of Art with Freddie Bulsara and introduced him to the band. Freddie soon became a keen fan. Sadly, in 1970 Smile decided to call it a day as nothing seemed to be happening for them. Tim went off and joined a band called Humpy Bong. Freddie left his band, Wreckage and joined up with Brian and Roger - it had all begun.
Freddie changed his name by deed poll to Mercury, changed the bands name to QUEEN and John Deacon was asked to audition as their bass player after three temporary bassists had been and gone. In February 1971 John was taken on as the fourth member of Queen. The band rehearsed tirelessly and played several small gigs at Imperial College, where they rehearsed, for close friends. Then they were offered the chance to test a new recording studio called De Lane Lea. In return for trying out new equipment they could make free demo tapes, which they did. They had signed recording, publishing and management contracts with Trident in 1972, and during that year were paid just £60 per week. Queen were given the "down time" or out of hours studio time at Trident Studios, where they began work on their first album.
In 1973 Trident and EMI signed a contract for a recording deal for Queen, and July of that year saw the release of QUEEN, their first album. The band were offered a big break, their first major tour as support band to Mott The Hoople. It began in Leeds in November 1973, and it was said by many people during that tour that Queen were "more than just a support act.. " QUEEN II was finally released in March 1974; it should have been earlier but their was a minor printing error on the sleeve which the band insisted was corrected. They embarked on their first headlining tour of Britain, starting in Blackpool in March 1974. In April 1974 the band undertook their first ever American tour, as guests to Mott The Hoople. But in May of that year whilst on tour, Brian collapsed with hepatitis and the band had to cancel the rest of their dates.
Work on their third album began without Brian and with a lot of help from Roy Thomas Baker. Brian finally felt well enough to go into the studio to record his guitar parts, although he was still quite ill and spent much time between takes in the studio bathroom being very sick! But eventually the album was finished and SHEER HEART ATTACK was released in November 1974. It was a huge hit both sides of the Atlantic as the world came to realise that Queen were a force to be reckoned with.
In January 1975 Queen left for the USA on their first headlining tour. Ticket sales were phenomenal, demand was so high that they had to add more shows, doing two shows in one day at some venues,both shows being sold out. Quite a few shows on that tour had to be cancelled as Freddie had developed a severe throat problem. But he soldiered on and performed as many as possible although doctors had advised him against it. Also in January 1975 Queen engaged the services of lawyer Jim Beach to negotiate them out of their Trident agreements, as Trident were no longer being as supportive as they should have been and the band were unhappy with the situation. Their first Canadian gig was in Edmonton on April 2nd, where they were joined on stage by support act Kansas. April 1975 saw Queen set lo pay their first ever visit to Japan.
When they arrived at the airport there were over three thousand fans their to great them, as Sheer Heart Attack was number one in Japan at the time. In May 1975 Freddie was presented with an Ivor Novello award by the Songwriters Guild for Killer Queen.
Queen began work on their new album in June. Links with Trident were finally, to the bands great relief, severed in August and by September Queen had signed with new management enter John Reid. When the band decided to release Bohemian Rhapsody in 1975 everyone told them it was far too long and just would not be a hit at 5 minutes 55 seconds. But Freddie gave a copy to his friend and London DJ Kenny Everett, telling him it was for him personally and he must not play it on air. But of course he did - fourteen times in two days! From then on every major radio station played the song, in full. It was a colossal hit and really established Queen as THE band of the era. The video for the single, directed by Bruce Gowers using ideas from the band themselves,was attributed as the one that began the whole "video craze". The single stayed at number one in the UK for an amazing nine weeks.
The album was, at the time, one of the most expensive ever recorded, but when A NIGHT AT THE OPERA was released in November 1975, it was a massive hit and gave them their first platinum album award. Freddie had designed a logo for the first Queen album which was reworked and used as a cover for Night At The Opera.The now famous CREST features the band's starsigns; two fairies for Virgo, a Crab for Cancer and two lions for the two Leos. The launch party for the album was held at the exclusive Opera Bar in London's Colosseum Theatre.
In January 1976 Freddie was presented with another Ivor Novello award for Bohemian Rhapsody. Also in January the band set off on their third American tour, which took them all over America and continued until the end of March. They then flew directly to Japan, arriving yet again to a riotous reception. By this time all four Queen albums were in the UK top Twenty, which was an unheard of teat. They undertook an extensive tour of Japan and then flew to Australia. Their tour Down Under began at the Perth Entertainment Centre.
They flew back into the UK to begin work on their next album, A Day At The Races. But recording was halted while the band undertook a short UK tour. On September 18th 1976 Queen decided they wanted to say thank you to their dedicated fans and so in true extravagant style they staged a huge, free concert in London's Hyde Park. The crowds were estimated at between 150 and 200 thousand people, the largest audience Queen had played to at that time, and to date still the highest ever attendance record for a concert in Hyde Park.
A DAY AT THE RACES was released in December 1976. The band all attended a special horse race at Kempton Park to promote the album, and in the "Day At The Races Stakes" a special race sponsored by EMI, they all backed the same horse without telling each other, and it won! Five days before it's release, the advance orders for Day At The Races were in excess of half a million. the highest orders EMI had received for any album.
Four days into 1977 and Queen were jetting off to America to rehearse for their forthcoming USA tour. They were on the road constantly through January, February and most of March, in the USA and Canada. Roger decided, at the end of all that, to record a solo single, which he paid for out of his own pocket. "I Wanna Testify" was released in August. In May of 1977 Queen flew out to Stockholm to begin an extensive European tour. Their concert at London's Earls Court featured the famous "Crown" lighting rig. It was 54ft wide, 26ft tall and weighed 5,000 pounds. It cost the band £50,000.
In October 1977 fan club members were asked, for the first time, to take part in one of the bands videos. We Are The Champions was filmed at the New London Theatre. After initial filming was finished the band remained on stage and played an impromptu gig to say thanks to all the fans who had turned up and worked so hard. In October 1977 the band were presented with a Britannia Award for the Top British Single, Bohemian Rhapsody of course.
Queen released NEWS OF THE WORLD on October 28th 1977. The cover was a drawing that Roger had seen by science fiction artist Kelly Frees. Roger had asked him if he would mind adapting his illustration for the cover and Frees readily agreed.
In November they were off to the USA again for rehearsals for their forthcoming our. For the first time,their finances enabled them to charter a private plane for the tour - it made life on the road that much more comfortable. The tour began on November 11th, their second American tour in this year. They all arrived back in the UK just in time to spend Christmas with their families. That Christmas, We Will Rock You was knocked off the French number one slot after 12 weeks, by We Are The Champions!
In February 1978 Queen decided they should set up their own management structure. They parted company with John Reid - more amicably than their split with Trident; this severance agreement was actually signed in the back of Freddie's Rolls Royce during a break in filming the video for We Will Rock You in the back garden of Roger's Surrey house! A short tour of Europe began in April 1978, again in Stockholm. In July the band started work on their new album, they recorded it in Montreux and France - the first time they had recorded outside of Great Britain.
As publicity for the forthcoming single - Bicycle Race - the band hired Wimbledon Stadium and fifty naked girls had their own Bicycle Race! The original cover of the single featured the naked rear of one of the girls, but due to public outcry in some countries, panties had to be drawn on! More touring in the USA and Canada began in October. November 10th saw the release of JAZZ. The sleeve was packaged lo contain a fold out poster of the naked bike race, but the Americans banned it from the actual sleeve and instead inserted an application form so tans could send away for it! The launch party for Jazz was hold in New Orleans, and has since gone down in history.
The band hosted the party themselves in order to invite both EMI, their European record company, and Elektra, their USA representatives. It was the first lime that both companies executives had met, and they both ensured that ALL of their directors attended. each to try and outnumber the other. The party was a completely over the top affair featuring mud wrestlers, midgets, topless waitresses and a host of other weird and wonderful characters.
The North American tour finished in late December and the band flew back to the UK for Christmas. But they didn't get too much time to rest, as by January 1979 they were off to Europe yet again. The tour began in Hamburg. By March they were ensconced in Mountain Studios in Montreux working on their "live" album. The band enjoyed the peace of Montreux and liked the studio there, so they decided to buy it (the studio, not the town!). When Freddie was asked by resident engineer David Richards why they had bought it, and what they intended to do with it, Freddie quipped 'dump it in the lake dear!"
The band flew out to Japan for yet more touring in April 1979. In June they approached the All England Lawn Tennis Club and asked if they could use the Centre Court at Wimbledon (after the tournament of course) for a concert. Permission was refused. The bands first live album LIVE KILLERS was released in June 1979. It was an album released by very popular demand. Queen were approached to write the musical score for a science fiction feature film called Flash Gordon. When the idea was first discussed with producer Dino De Laurentiis, he simply asked "who are the Queens?". The band agreed to work on the music, and began in June, in Munich.
The end of 1979 found Queen embarking on The Crazy Tour. It included such illustrious venues as Tiffany's in Purley, The Lewisham Odeon, Alexandra Palace and finally The Hammersmith Odeon. They were one of many bands who performed at the venue to raise money for the starving people of Kampuchea. During that tour the bands tour manager, Gerry Stickells, collapsed backstage and had to be rushed to hospital/ Gerry had been with Queen on every tour since 1976 ( and has done every one since).
At the start of 1980 the band were working hard on their new album The Game, it was the first album to use the electronic wizardry of synthesisers. In June they were off to tour north American again. Roger had also started work on his first solo album. THE GAME was released in June 1980 and went five times platinum in Canada alone. Another one Bites The Dust became the bands biggest ever worldwide selling single. It became a huge "crossover' hit in the USA, topping the charts in rock, soul and disco. The band received a Dick Clarke award as best band, a top Billboard award for Top Crossover single, and were nominated for various other awards including Grammy's Canadian Juno's.
On December 8th 1980 the soundtrack album for FLASH GORDON was released. By the end of 1980 Queen had sold over 45,000,000 albums worldwide. In February 1981 after another Far East tour the band flew into Rio de Janeiro for the start of their first tour of South America. Queen were the first rock band to undertake a stadium tour of South America, paving the way for many more bands to follow. The band's equipment had to be flown in a privately hired Flying Tiger 747 cargo plane from Tokyo: the flight between Tokyo and Buenos Aires is the longest air route between capital cities in the world.
Their first South American gig was Buenos Aires on February 28th 1981. They filled three more Argentinean World Cup Stadiums, playing 5 sold out stadium gigs in just eight days. They then played two nights at the massive Morumbi Stadium in Sao Paulo. On the first night 131,000 people attended, and Queen created rock history - it was the largest paying audience for a single band anywhere in the world. During those Iwo nights at the Morumbi Stadium 251,000 people saw the Queen spectacle - that's a bigger audience than most bands can expect in their whole career! Every single one of Queen's albums was in the Top Ten in Argentina during their tour - a first for any band.
Whilst they were in Sao Paulo the band celebrated the fact that the single Love Of My Life had bean in the Sao Paulo singles chart for over 12 consecutive MONTHS! In April 1981 Roger released his first solo album, titled FUN IN SPACE. Queen were back in South America, it was a return trip being hailed as The Gluttons For Punishment Tour. Unfortunately their last two Venezuelan gigs, in Caracas, had to be cancelled as the ex president of the country had died. So the band moved on to play Monterrey and Puebla, just outside Mexico City. Whilst there the band's promoter, Jose Rota, was arrested and jailed - over $25000 bail money had to be paid to release him so the tour could continue!
GREATEST HITS, GREATEST FLIX and GREATEST PIX were released simultaneously in October 1981. Greatest Hits, the album, entered the charts as soon as it was released and has rarely been out of the British charts since! Greatest Flix, the video, was the first real collection of promo videos released commercially by any band. Greatest Pix, the book, was compiled by Jacques Lowe, who was President Kennedy's personal photographer during his term of off ice. It was Jacques personal selection of the greatest Queen pictures of the previous decade.
The bands twelfth album, HOT SPACE, was released on May 21st 1982 whilst the band were in the middle of an extensive European tour. On June 5th of that year they played the huge open air Milton Keynes Bowl. The whole show was filmed by Tyne Tees Television under the direction of Gavin Taylor, to be shown on Channel Four's The Tube programme at a later date. In September 1982 the Japanese record company Mercury Records released an album called Gettin' Smile - which was originally thought to be a bootleg, but was proved lo be the real Smile! In December 1982 Queen made it into the Guinness Book Of Records as Britains highest paid executives.
In January 1983 Freddie began work on a solo album and Roger began work on his second solo album. During the early part of the year Brian had flown out to Los Angeles and gathered together a few close friends in The Record Plant studios in that town. Brian had some basic ideas to work on, but it was generally a lengthy jam session. Brian had no intention of wasting the talents of Edward Van Halen, Alan Gratzer, Phil Chen and Fred Mandel - and so kept the tapes rolling throughout the whole session. The result was the mini album STAR FLEET PROJECT which was released in October 1983.
Queen went back into the studios in August 1983 to start work on their next album. Work commenced at The Record Plant in Los Angeles - the first time they had recorded in America. After a number of months recording switched from LA to Munich, a city that the band spent so much time in during that recording session that they almost thought of it as home!
In February 1984 the band released their 13th album, THE WORKS. Radio Ga Ga, taken from that album, became a worldwide hit, reaching number one in 19 different countries. The video for the single, directed by David Mallett, featured fan club members again. The handclapping chorus became a favourite with live audiences all over the world. Another single from The Works was I Want To Break Free - and that had an even more outrageous video also featuring members of the fan club. The band members dressed as female characters from popular British soap opera "Coronation Street" - when asked "why?" Roger said he had become bored with serious, epic videos and thought it was about time they had some fun and proved they could still laugh at themselves. MTV in America refused to show the video.
In June 1984 Roger released his second solo album, STRANGE FRONTIER. Also in June a company called Guild Guitars launched a special copy of Brian's home made Red Special guitar. It was called the BHM1 and Brian had been closely involved in all aspects of it's production. Sadly, about a year later Brian and Guild had some discussions about the design of the instrument which resulted in Guild ceasing production.
In August Queen flew out to Belgium to start The Works tour. October saw them in Bophuthatswana, South Africa. and a series of gigs at the famous Sun City Superbowl. The gigs themselves were fraught with problems. as Freddie had serious voice complications resulting in cancellations. But the problems were mild compared to what the band returned home to. Because of South Africas apartheid laws, their visit caused much public outcry. The band defended their actions, saying that they were a non-political band and that they had gone out to play music for the people, no other reason.
Queen's first ever full length video was released in September 1984. We Will Rock You was filmed during the bands 1981 Montreal Concerts. During September, Queen had no fewer than nine albums in the UK top 200.
1985 was the year of Rock In Rio. It was billed as the biggest rock festival to be held anywhere in the world and Queen wore headlining the event. The whole festival was recorded for broadcast throughout South America. but Queen were the only band to obtain the rights to release their performance on video - Live In Rio was released in May 1985.
The band performed their first ever concert in New Zealand on April 13th 1985 at the Mount Smart Stadium in Auckland. The band were met outside their hotel on arrival by a group of chanting anti-apartheid demonstrators. Tony Hadley, lead singer with British band Spandau Ballet flew over from Australia, where his band were on tour, to see the Queen show - and was honoured to be asked to join Queen on stage for their encore.
Freddie's first solo album, MR BAD GUY, was released on April 29th, whilst the band were on tour in Australia. The gig in Melbourne had to be played with no lighting rig at all, as the whole computer system that controlled the lights had broken down. After an Australian tour peppered with problems, not least being the incessant rain, the band flew across to Japan. Their concert at the Tokyo Olympic Swimming Pool was filmed by NHK to be shown on network Japanese TV.
July 13th 1985 was a day that went down in history, as the Live Aid Global Jukebox took the world by storm from London's vast Wembley Stadium and from Philadelphia in the USA. Queen were just one of a multitude of top bands who all performed a 20 minute set. The World was watching, and Queen were unanimously voted, by press and public alike, as the band that stole the show. That event was a turning point for Queen.
They had decided sometime previously to take a break from each other, but that day brought them all together with renewed vigour and enthusiasm. One Vision was the first release to come form that new inspiration.
Queen were approached by Russell Mulcahy to record the soundtrack for his first feature film, a fantasy tale about an immortal Scotsman called Highlander. In an interview Mulcahy stated that Queen had been the first band he thought of for the score.
In March 1986 John formed a new band called The Immortals to write and record some music for a forthcoming film called Biggles. They recorded just one track - No Turning Back, and the band folded. On June 2nd Queen released their 14th album, the soundtrack to Highlander called A KIND OF MAGIC. The album entered the UK chart at number one and remained in the top five for thirteen consecutive weeks.
On June 7th the Queen machine was in action again, as the band embarked on their Magic Tour Of Europe. The first UK gig was Newcastles St James Park football stadium.The band, and promoter Harvey Goldsmith, donated ALL the proceeds from that concert to the International Save The Children Fund. On July 11th the Queen Tornado, as Freddie had dubbed it, hit London and two sold out shows at Wembley Stadium. During these, four enormous inflatables, modelled on the characters from the Kind Of Magic album, were released from amongst the audience into the night. The second nights show was filmed by Tyne Tees, again directed by Gavin Taylor, to be shown on TV at a later date.
When that concert was finally shown on TV, it became the first ever simulcast between Channel Four and the Independent Radio Network in Britain. This feat has never since been repealed, possibly because in order to achieve this, a satellite dish had to be delivered to every single independent radio station in the UK so they could receive the sound by satellite.
On 27th July Queen made history again (something of a habit with this band) when they played the beautiful Nepstadion in Budapest, Hungary. It was the first time a major rock band had played a stadium date in the Eastern Bloc, and it was completely sold out well in advance. The concert was filmed by the Hungarian State Film Agency, MAFILM, in connection with Queen films. They had to commandeer every 35mm camera in Hungary to film it!
On August 9th the band flew by specially redecorated "Magic Helicopter" into Knebworth Park, Hertfordshire, for the final date on the Magic Tour. It was the biggest show on the tour with an estimated audience. of over 120 thousand people. It caused one of the biggest traffic jams in history as everyone tried to arrive in plenty of time. Over ONE MILLION people saw Queen on that European tour, in excess of 400 thousand in the UK alone.
In November 1986 EMI records released the entire Queen catalogue on Compact Disc - the first time an artistes complete collection had been made available simultaneously. In December Queens 15th album, and their second live album, was released. LIVE MAGIC entered the UK chart at number three. On 13th December the band's film "Live In Budapest" opened in Budapest at 9am, and proceeded to play to NINE sold out houses in that one day. Seven completely full screenings were shown each day for a week.
During 1986, in the UK alone, Queen sold a staggering 1,774,991 albums. On February 3rd 1987, Freddie released a cover version of the great old Platters song "The Great Pretender'. In the video to accompany the song Freddie recreated many scenes from his own and Queen videos, and actor Peter Straker, Roger Taylor and Freddie all donned wigs and make up and "became" female backing singers. It was an expensive video.
One of Freddie's all time heroines was Spanish opera diva Montserrat Caballe, and in March 1986 he met her in her home city of Barcelona. An astonishing partnership was formed when Montserrat agreed to record an album with Freddie. He penned a song about Barcelona for her, and the two began to write and record the album. Freddie and Montserrat appeared on stage together for the first time in May 1987, at the Ibiza 92 Festival, held at the famous Ku Club on the holiday island. They performed Barcelona.
In August 1987 Roger advertised for, auditioned and chose musicians to form a new band, The Cross. He wanted a band he could write with and, more importantly, tour with during Queens increasingly lengthy "quiet" periods.
The single "Barcelona" was released in Spain in September 1987, and 1 0,000 copies were sold in just three hours. The Spanish Olympic Committee adopted the song as the theme for the Olympic Games, being held in the city in 1992, then decided against it. which caused great anger amongst the fans.
Rudi Dolezal and Hannes Rossacher, an Austrian director /producer team, followed Queen all over Europe during the Magic Tour, filming them on stage, backstage, resting, playing and generally touring". They then searched the archives for footage of live shows, interviews and outtakes from videos. After that they interviewed the band, their friends, their fans and other "stars". Finally, in November 1987, a trilogy of documentary style videos was released, called The Magic Years. The trilogy received numerous awards, including the famous Silver Screen award in the USA (the biggest film and TV festival in the world), and the IMMC award at the Montreux Golden Rose TV Festival. Also during 1987 Queen were presented with a prestigious Ivor Novello award for their "Outstanding Contribution To British Music".
In January l988 Queen went into the studios to start work on their next album. On January 25th,The Cross released their debut album called SHOVE IT. The Cross also embarked on their first European tour,playing club and university dates throughout the UK, and clubs in Germany.
Freddie and Montserrat appeared together again on October 8th at the huge La Nit event staged in Barcelona, which was held to celebrate the arrival of the Olympic flag from Seoul. Freddie and Montserrat closed the event, held in the presence of the King and Queen of Spain, with Barcelona, The Golden Boy and How Can I Go On, tracks taken from their forthcoming album.
BARCELONA, the duet album from Freddie and Montserrat was released on October 10th 1988. The launch party was a typically extravagant affair held in the Crush Bar at the Covent Garden Opera House - a fitting venue!
On December 4th The Cross played a one off gig at London's Hammersmith Palais, at a party held exclusively for fan club members. Special guests on stage were Brian and John.
THE MIRACLE was released on May 22nd 1989 and entered the UK chart at number one. It went on to became a massive worldwide success, reaching number one in most European countries. To promote the release, all four member of the band gathered in a Radio One studio and to be interviewed by DJ Mike Reid - a scoop for him as the band had not given a joint interview in many years.
As it was the end of a decade. there were numerous "Best Of The Eighties" programmes on TV. especially in the UK. Queen were voted for, by the viewers of the Independent Television and readers of it's magazine TV Times, as The Best Band Of The Eighties. It was an accolade they were immensely pleased by, and they all appeared together on the show to collect it.
In late November 1989 Queen were already back in the studios working on their next album.
On February 18th 1990, Queen were honoured yet again when they were recognised by the British Phonographic Industry (at last) and presented with an award for their "Outstanding Contribution To British Music'.They all collected the award and went on to host a huge, star studded party at London's Groucho Club.
The Cross released their second album on March 26th called MAD BAD AND DANGEROUS TO KNOW, a title taken from a quote used to describe the eccentric Lord Byron! The Cross also undertook a short German tour.
Brian, meanwhile, wrote and produced the haunting music for a version of Shakespeare's Macbeth, performed at London's Riverside Theatre.
In November 1990 Queen signed a major new recording deal in North America with the Disney financed "Hollywood Records". Hollywood immediately began the task of pushing Queen back up the popularity ladder, and plans were laid to remaster and re-release the entire back catalogue on CD. So far the collection had not been available on that format in the USA.
On December 7th The Cross played their only UK date for some time, at London's Astoria Theatre, at yet another Queen Fan Club Party. Brian joined them on stage for the encore.
On January 14th 1991 the band released the six and a half minute long epic"Innuendo"as a single. It was a massive success, giving the band their third UK number one single and ensuring them the number one slot throughout Europe. The album, also called INNUENDO, was released on February 4th and crashed straight into the UK chart at Number one, and reached the top slot throughout Europe.
In March 1991 The Cross went into the studios to start work on their third album, BLUE ROCK. The album was released in September on Elektrola in Germany only Queen went into studios in April to begin work on their next album.
On May 30th 1991 Freddie filmed what was to become his final video for Queen, with the haunting Days Of Our Lives. A version featuring Disney animation was made for the USA.
Brian organised the Rock section of the Seville "Guitar Legends" festival, and amongst those chosen by Brian to perform their music were Nuno Bettencourt, Stevie Vai. Joe Satriani and Joe Walsh, to name but a few. The concerts were performed live in October on the site of the Seville Expo 92 exhibition.
GREATEST HITS TWO was released in October 1991, a double album featuring 17 tracks. They also repeated their earlier success by releasing Greatest Flix 11 and Greatest Pix I 1, this time compiled by Richard Gray. A special box was also release called Box Of Flix containing Flix I & 11 plus four bonus tracks. Needless to say both Hits 11 and Flix I I were number one in their respective charts!
On November 23rd 1991 Freddie announced to the world that he had AIDS. Just the next day his fight was over and he died peacefully at his home, surrounded by family and friends. The world was in shock. Freddie had kept his illness very private, and only those closest to him had been aware of just how close to the end he really was. Fans from all over the world sent flowers and cards and many travelled to London to be outside Freddie's house. A quiet family cremation service was held three days after his death, conducted in the Zoroastrian faith that Freddie's parents followed so strictly.
In April, Brian had been commissioned by a London advertising agency to write a piece of music for an advertising campaign for Ford cars. The resulting track, Driven By You, was so good (and proved so popular) that Brian released it as his first solo single on November 25th. It made the top ten in the UK charts.
As a tribute to Freddie, and to raise funds for the Terrence Higgins Trust to continue the fight against AIDS, as Freddie's last wishes had requested, Bohemian Rhapsody/These Are The Days Of Our Lives was released as a double A sided single. It entered the UK chart at number one, where it remained for five weeks, raising over one MILLION pounds for the AIDS charity.
In December 1991, Queen had no fewer than 10 albums in the UK top 1 00.
In February 1992, the annual BRIT awards recognised Freddie with a special posthumous award for "Outstanding Contribution To British Music" and out of three Queen nominations, "Days Of Our Lives" won the Best Single of 1991 award. At that awards ceremony, Roger and Brian announced plans for a massive, open air concert at London's Wembley Stadium lo celebrate Freddie's life, and give him a send off to remember.
The tickets went on sale the next day , with no announcement of who was going to play apart from Brian, Roger and John, and all 72,000 tickets sold out in just SIX hours.
On Easter Monday, April 20th 1992, many of the worlds top stars joined Brian, Roger and John on stage at Wembley stadium to pay an emotional tribute to Freddie. The stadium was packed lo capacity and it was televised live to over one billion people.
In April 1992 Queen were awarded an Ivor Novello award for Best Single with Days Of Our Lives, and Brian also won an award for Driven By You for Best TV Commercial Music.
September 1992 saw the release of the long awaited Brian May album, called BACK TO THE LIGHT. During 1993 Brian undertook a series of concerts throughout Europe and the US to promote the album, including some support dates with Guns n Roses.
Prior to Christmas 1992 a double video of The Freddie Tribute Concert was released, with all proceeds being donated to the Mercury Phoenix Trust, a charity set up specifically to deal with the proceeds from the concert and any subsequent fundraising. The money raised by the trust is used to help those with HIV and AIDS.
Freddie won a posthumous Ivor Novello Award in 1993 for the number one hit single "Living On My Own". Brian went on tour with The Brian May Band and released a video of one show, the Brixton Academy, and a live album in 1994.
Roger released his third solo album in September 1994, called HAPPINESS. He promoted the album with a European tour. In November 1995 the tracks that Queen had begun way back in 1991 were completed by Brian, Roger and John, and the long awaited MADE IN HEAVEN was released worldwide. It was seen by many as the end of an era, as it was declared this was the band's final album. In May 1997, Queen were awarded an Ivor Novello award for the best song lyrically & musically for "Too Much Love Will Kill you" .
Plans are afoot for the release of archive videos and live material. Brian and Roger are recording solo albums with plans for tours to follow. A state of the art video game featuring Queen music is in production, a major photographic exhibition featuring stunning shots of Freddie is on a world tour, Queen are one of the most collectable bands in the World, and their fan club is as strong as ever. Queen will be around for a lot longer yet!
(For the full official Queen story, get AS IT BEGAN by Jacky Gunn & Jim Jenkins, published in the UK by Sidgwick & Jackson; ISBN 0-330-33259-7)
Back to band information